The growth momentum of China Xiaomi in the smart phone market is rapidly slowing down. The company was founded in 2010 and quickly jumped to third place in global sales, but lost its momentum in 2015, and 2016 has completely disappeared from the top 5 global sales. Even from the domestic situation in China, Xiaomi's sales have fallen from the first place last year to the fifth place, and the loss of users is obvious. The rapid landslide of Xiaomi reflects what problems exist in Chinese companies?   

"It used to be very cool to take Xiaomi. But now it seems that there is no such feeling at all." (a 30-year-old woman from Guangzhou, Guangdong Province)

This seems to be the most authentic view of many Chinese young people. This is also evident in the data. From the global sales volume of smart phones released by the US research company IDC, Xiaomi has been ranked between the third and fifth places since July-September 2014, and is a frequent visitor to the top of South Korea's Samsung Electronics and Apple. However, since the beginning of 2016, the traces of Xiaomi have not been found in the top 5 of the global sales rankings. This situation has lasted for half a year. From January to March, Xiaomi ranks only 8th in the world.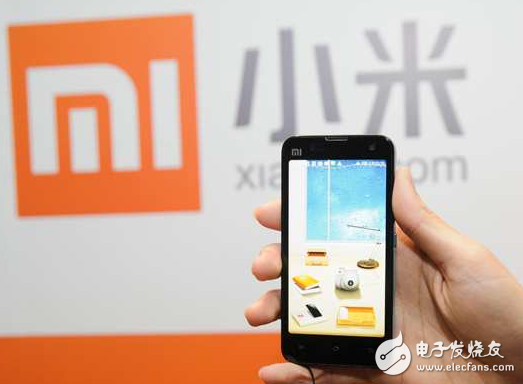 The downturn in Xiaomi seems to have been more than a matter of time. According to executives of Japanese component manufacturers who have a cooperative relationship with Xiaomi, "Since the spring of last year, there have been signs of a downturn, and orders for parts from Xiaomi have begun to decrease significantly." Even so, Xiaomi was barely able to maintain the first throne in the Chinese market for two consecutive years in 2015.

However, the situation in which the teeth are stuck is difficult to sustain, and the precursors have finally become a reality this year. In China, which accounts for the majority of Xiaomi's sales, the May data shocked the mobile phone industry. From the perspective of smart phone sales in the Chinese market, from January to March 2016, Xiaomi quickly fell from the first place last year to the fifth place. In the context of the overall growth rate of 2% in the market, only Xiaomi has a 32% reduction.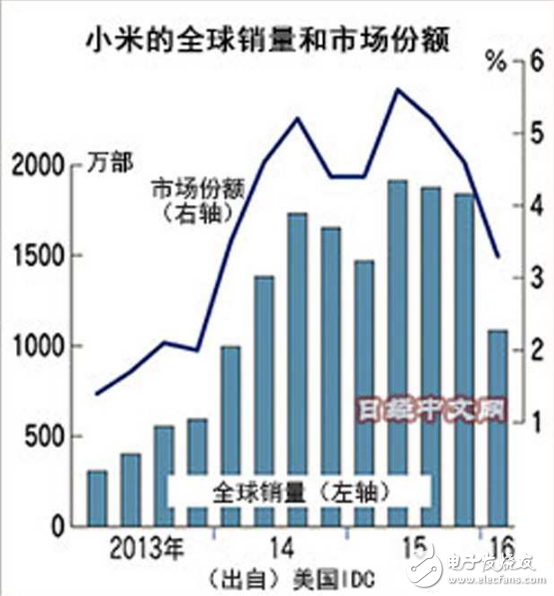 Why is there such a significant decline? Hong Kong-based mobile phone industry reporter Shan Gen Kang Hong pointed out that "the problem is that Xiaomi's sales strategy is no different from many Chinese companies."

In the 2011-2012 just entering the market, Xiaomi took the sales method of booking through the Internet. Because its products are similar to the iPhone, it is difficult to buy, which attracts attention.

However, after 2013, Xiaomi took the lead in expanding sales and significantly lifted sales at agency stores on the street. This became the first turning point. Yamagen said that although the sales volume has increased, it is close to the ordinary smart phones that anyone can buy.

In order to avoid irritating consumers, Xiaomi's next strategy is to launch the low-priced brand "red rice". The price of red rice is only about half of the millet brand, less than 1,000 yuan. In July 2013, this became the second turning point for Xiaomi.

But at the end of 2014, the downturn in the Chinese economy began to become significant, and Xiaomi became more and more anxious. In order to maintain market share, in 2015 it further turned to the development of red rice. This became the third turning point. This has also become a key factor leading to the current severe downturn in Xiaomi. As a result of the continuous introduction of low-priced red rice-derived goods and prominent sales momentum, the result of "Millet further gives people the impression of producing low-end goods enterprises" (Shangen).

With the continuous strategic transformation, the Chinese star enterprise, which is like a comet, has disappeared from the competition of the world's strongest in just one and a half years. Not only the world market, but also the danger of being squeezed out of the top 5 of the Chinese domestic market. This is the reality that Xiaomi is facing today.

In China, companies have sprung up like mushrooms, but they have disappeared. These companies have one thing in common, that is, they pay too much attention to immediate interests and lack of planning based on medium and long-term vision.

In the smart phone industry, where the market is expanding rapidly, is Xiaomi just one of such companies? In the industry where the market as a whole has been trampled, the results may soon come to the fore.

Multi-Type Rice Cooker,No Pressure Rice Cooker,Non-Sticky Rice Cooker,Easy To Clean Rice Cooker

JOYOUNG COMPANY LIMITED , https://www.globaljoyoung.com